Highly qualified and experienced hair and beauty specialists
We offer a personal, one-to-one service with individual consultations, to ensure we meet your expectations for every service that we provide. We also offer a full range of refreshments including Desi Tea, Coffee and soft drinks.
Open 7 days a week, 10am to 7pm, we also stock a selection of silver jewellery and accessories, and a range of exclusive Little Earth designer handbags, which can be bought from our salon.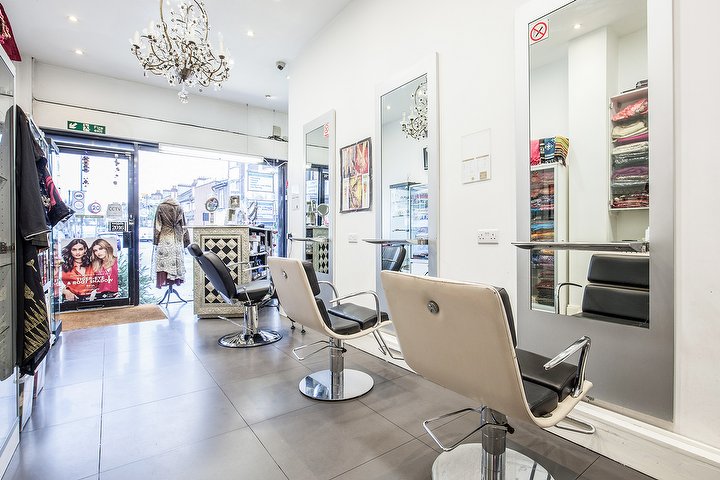 Creative hair style and beauty
At Karima and Saira, we offer a wide range of specialised hair and beauty treatments, including Yuko Hair Straightening, making us one of the foremost hair salons in our area. We are proud of our reputation for innovative hair design, attention to detail and our ability to cater to all hair types and cultures. You can have your hair and beauty needs attended to in a quiet and private setting, where you can relax and unwind in peaceful surroundings.
Karima
Karima is a highly qualified beautician qualifying from Ray Cochrane Beauty School and holds a diploma from BABTEC. She has extensive experience in catering to customers in the fashion industry and from media backgrounds.
Saira
Saira trained at Vidal Sasson and, after taking part in numerous hair shows and photo shoots in the UK and USA, opened two extremely successful salons in Victoria and Southall, helping people to achieve what they really want from their hair.
Some kind words from our clients
Very friendly staff and just love the haircut.
Best cut ever!! ? Highly recommended.
Least stressful hairdressing experience of my life. Great value.
The lady who cut my hair was lovely and did a fantastic job!
Wonderful place! The staff were friendly and the haircut was great!
Really professional and great service! Love my new haircut! Thank you!
If you're interested in any of our products or services, please give us a call on 0208 672 5040. If you would like to pay us a visit, please request an appointment online.